Jeanne Vaccaro
---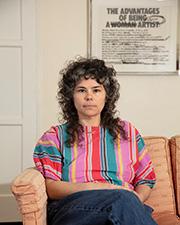 Assistant Professor, Museum Studies and Women, Gender & Sexuality Studies
Contact Info
Blake Hall
1541 Lilac Ln.
Lawrence, KS 66045
---
Biography
—
Jeanne Vaccaro is a writer, scholar, and curator of contemporary art and public practice. Her research and teaching center artists who recalibrate art history's norms and canons. 
Jeanne comes to KU from the ONE Archives in Los Angeles, where she served as the inaugural scholar-curator at one of the nation's largest collections of LGBT materials. At ONE, she designed multi-modal curricular strategies to amplify minoritarian histories and liberation struggles, including archive-centered classes, exhibitions, artist residencies, public programs and performances. She organized public programs with Arthur Jafa and Tourmaline on speculative archives and Black futures, a study session on trans icon Lou Sullvivan, and a yearlong performance series, "Remote Intimacies," about mediated contact. Jeanne also curated Foucault on Acid, an exhibition of paintings and objects by Grace Rosario, exploring how race and sex inform archival and desert imaginaries. 
Independently, Jeanne has organized many exhibitions that facilitate pedagogical spaces and openings. She is the curator of an ongoing public art presentation for the City of West Hollywood, showcasing queer artists on the 67-foot digital billboard, The Sunset Spectacular. With Jennifer Doyle, she is the recipient of a multi-year Getty Foundation Pacific Standard Time grant to present Scientia Sexualis at the Institute of Contemporary Art Los Angeles. She curated Bring Your Own Body: transgender between archives and aesthetics for The Cooper Union and Curriculum: spaces of learning and unlearning for efa Project Space. At Human Resources Los Angeles, she curated nothing lower than I with Xandra Ibarra, excavating the archives of performance artists Bob Flanagan and Sheree Rose to explore the interplay of race, disability and consent.
Jeanne was a Queer | Art curatorial fellow, and serves on the advisory board of NYC LGBT Center's Archive. With AJ Lewis she co-founded and co-organizes the New York City Trans Oral History Project, a community archive partnership with the New York Public Library. As a consultant and advisor, she served as lead story producer for Google's documentary about the Stonewall riots and as an archivist for the FX | Hulu series, PRIDE. She has juried exhibitions, residencies and awards for organizations including Wendy's Subway and Creative Capital, and is a curatorial advisor for the FotoFest Bienniale.
Education
—
Ph.D. in Performance Studies, New York University, 2012, New York, NY