Alumni
We love hearing from our alumni! Did you graduate from the Museum Studies Program? Share what you're up to by emailing us or completing this form.
Sara Johnson, Class of 2022
Operations Manager, Paris Gibson Square Museum of Art (Great Falls, Montana)
"The Square" is the only contemporary art museum in North Central Montana, and it holds a collection of roughly 2,000 art objects. We're housed in a former school building (read: castle) built in 1896. We rent the building from the school district for $1 per year. We also have a robust art education program, which is unusual for a museum, offering around 15 art classes per quarter in ceramics, painting, drawing, textiles, jewelry making and more.
My job has so many duties that are all included under one position. Essentially, I support all the other departments -- Admin, Development, Curatorial, Education, Gift Shop/Visitor Services and Facilities) with their marketing, office and IT needs. I would say 80% of my job is marketing, graphic design and web design. We also rent out several rooms of the museum for short-term events such as bridal showers, private receptions, small wedding ceremonies, etc., so I act a bit as a venue coordinator as well. I set up and maintain off the computers for staff and do the best I can at managing data security. I wear a lot of hats and often have to juggle a LOT of different deadlines and priorities.
I've always wanted to have my hands in all the "pies" of museums, so I love that every day is different and I do a wide variety of things. I think if I were only in one department, I would always wonder what the other ones were doing and be bummed if they were working on a cool project I couldn't be part of! This way I'm a little bit part of everything. We have a small but mighty team at The Square, and all of us are passionate about our work and come to work wanting to do what's best for the museum. I will say that I particularly enjoy the chance to work on curatorial projects, because that work seems closest to what I studied at KU. We are also working through a major Collections for Preservation assessment, so that will be great for opening doors for dire collections preservation and storage at the museum.
My goals for my KU MUSE degree were always to get as many possible tools in my toolbox. I took a variety of classes both in and outside the program with the goal of hopefully working in exhibition design or curatorial. I also already had a background in English, graphic design and marketing, so my coursework was geared toward expanding on that. I credit a lot of my professional experience to my graduate internship at the Spencer Museum of Art on campus. I learned a lot not only about curatorial work from Dr. Susan Earle, but also about working with a large, multi-department team. I was fortunate to be on staff while SMA was working through a Museums Empowered grant for professional development, so I learned and practiced new interoffice and interpersonal skills. Susan Earle and SMA staff also made a point of including me in a variety of inter-departmental discussions and projects since they knew I had interest in many facets of museums and not a single department. Overall, my KU MUSE M.A. definitely made me more marketable to potential employers -- enough so that The Square hired me from four states away!
Vanessa Delnavaz, Class of 2019
Invertebrate Zoology Collection Manager, Santa Barbara Museum of Natural History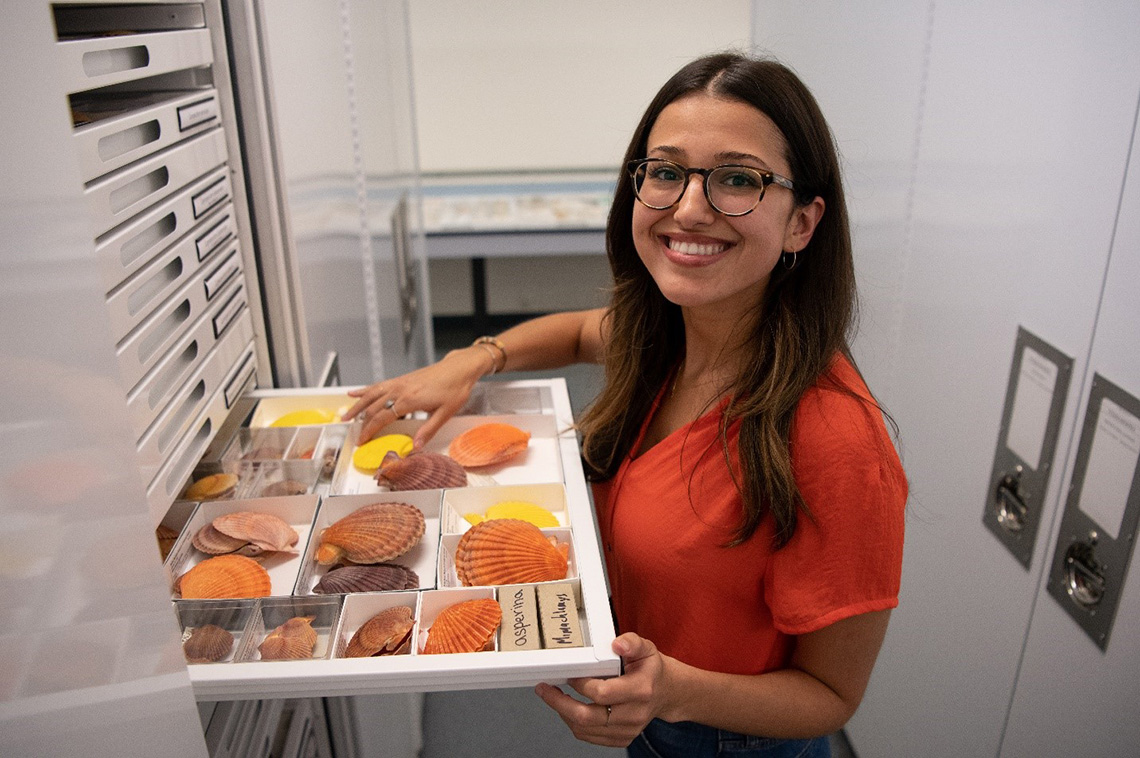 Since the completion of the KU Museum Studies Program in May 2019, I have become the invertebrate zoology collection manager at the Santa Barbara Museum of Natural History. At SBMNH, I oversee a collection of approximately 2.5 million invertebrate specimens, a large majority of which are mollusks. We have significant fluid-preserved and dry collections.
In addition to the physical specimens, I also manage our Specify database, which currently has over 150,000 records. I am particularly interested in digitizing our collection to make it as accessible as possible, and therefore am involved in several imaging projects with DSLR photography, as well as scanning electron microscopy.
In my position, I enjoy working in so many different capacities, including collections management, research, volunteer supervision, education and outreach. I love that I get to put my education from the Museum Studies Program to use every single day, while also constantly learning new things.
Katelyn Trammell, Class of 2019
Anthropology Collection/NAGRPA Assistant, University of Nebraska State Museum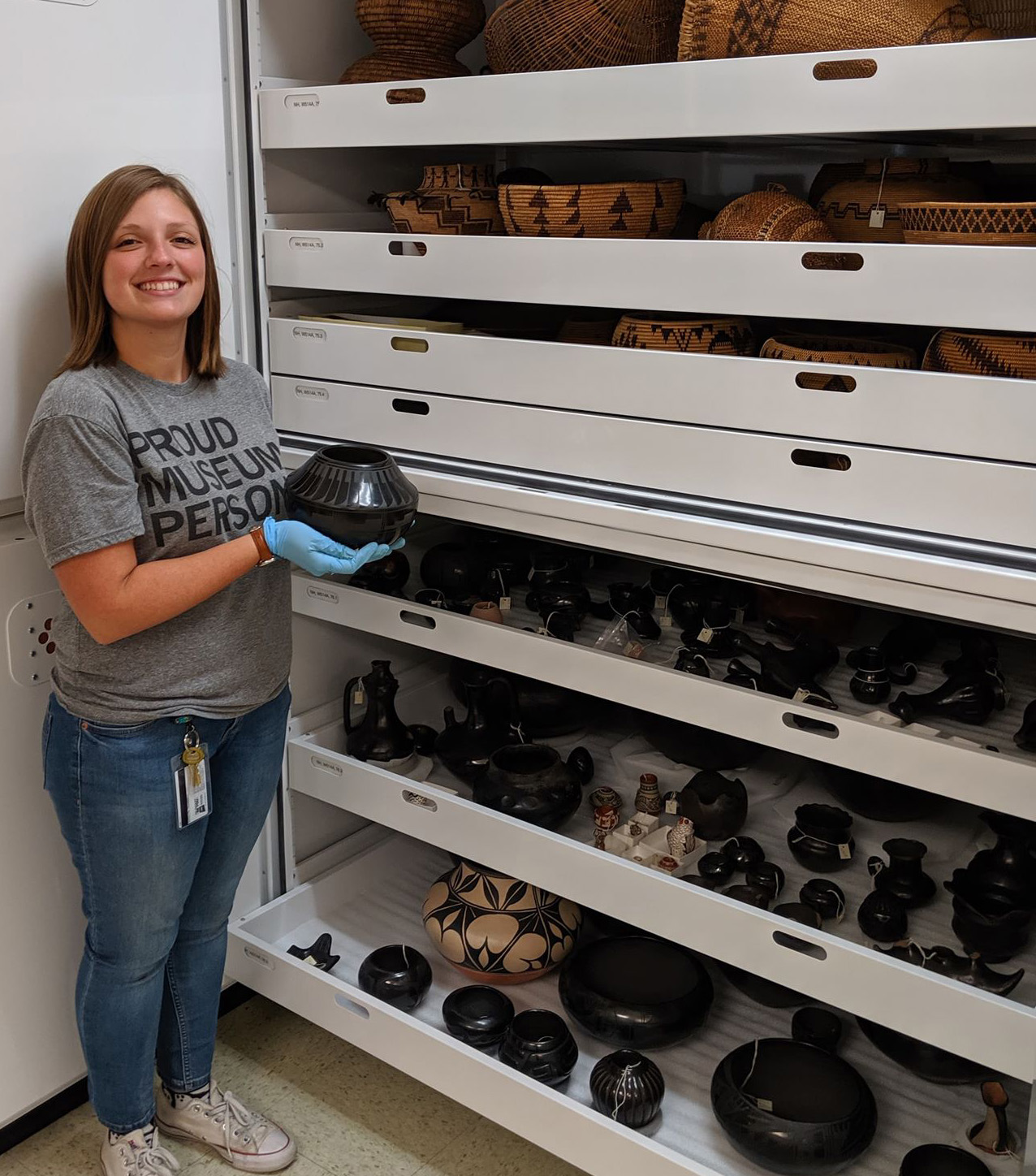 I am the anthropology collection assistant at the University of Nebraska State Museum in Lincoln, Nebraska. The State Museum is a natural history museum that includes zoology, paleontology, entomology, botany, parasitology, and of course -- my favorite -- anthropology! Quite frankly, I'm lucky enough to have my dream job. The anthropology collections consist of objects from all over the world, from Puebloan pottery to samurai armor, Papua New Guinea dance masks to World War I helmets.
Currently, my job mostly consists of assessing the collection's needs. This includes rehousing objects, creating supports for fragile pottery, writing a proposal to replace some of our older cabinets and preparing to move to a new database. But my work is not solely based in the collection.
I also serve on the museum's exhibition committee and have assisted in rewriting the museum's mission statement. I have also had the pleasure of meeting the descendants of past donors and have enjoyed reuniting them with the objects they so fondly remember.
The other half of my job is to assist our NAGPRA coordinator in repatriation efforts. The museum has an incredible repatriation record, but there is still more work to be done. Although the NAGPRA process can be slow at times, I am learning more every day about the importance of this work.
My experience in the Museum Studies Program at KU and my internship at the Spencer Museum of Art prepared me perfectly for my position at the State Museum. At the Spencer, I learned how to work with, care for and interpret cultural objects similar to those in the collection I now manage. Every day I find myself pulling on lessons from my various classes. My experiences in the exhibits course have prepared me to serve on the exhibits committee; I have used my conservation textbook while freezer-treating incoming objects, and I am now running a budget using skills from the museum management class.
My advice to future students and graduates is to take a breath and not feel discouraged. The jobs are out there, and museums need people like you. Your classes are preparing you in ways that you could never expect, and you will definitely be able to do the work.
Kayle Rieger Patton, Class of 2016
Cultural Accessibility Consultant & Arts Educator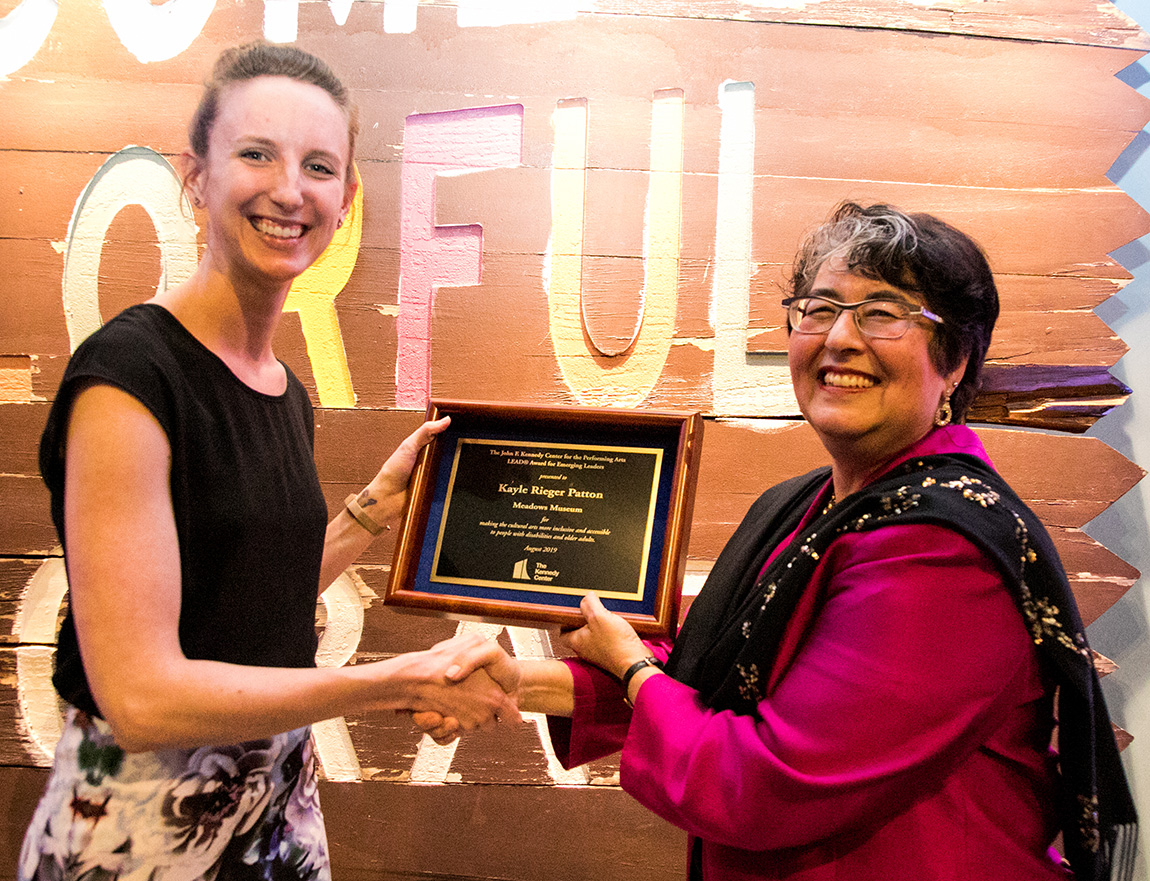 I'm a cultural accessibility specialist and arts educator based in the UK. After completing the Museum Studies Program at KU, I worked for several years at a university art museum where I quickly expanded my knowledge, experience, and passion for disability advocacy and arts accessibility work. I ran programs for adults with dementia, people with vision impairments and families of children with disabilities. I also offered educational training on disability-related topics to museum staff, university students and volunteers, while advancing the museum's overall accessibility.
In 2019 I was awarded the Leadership Exchange in Arts and Disability's (LEAD®) Emerging Leader Award, presented by the Kennedy Center for Performing Arts, which recognizes arts administrators whose leadership and work furthers the field of accessibility.
Elenore Leonard, Class of 2017
Curator of Collections, Andrew County (Missouri) Museum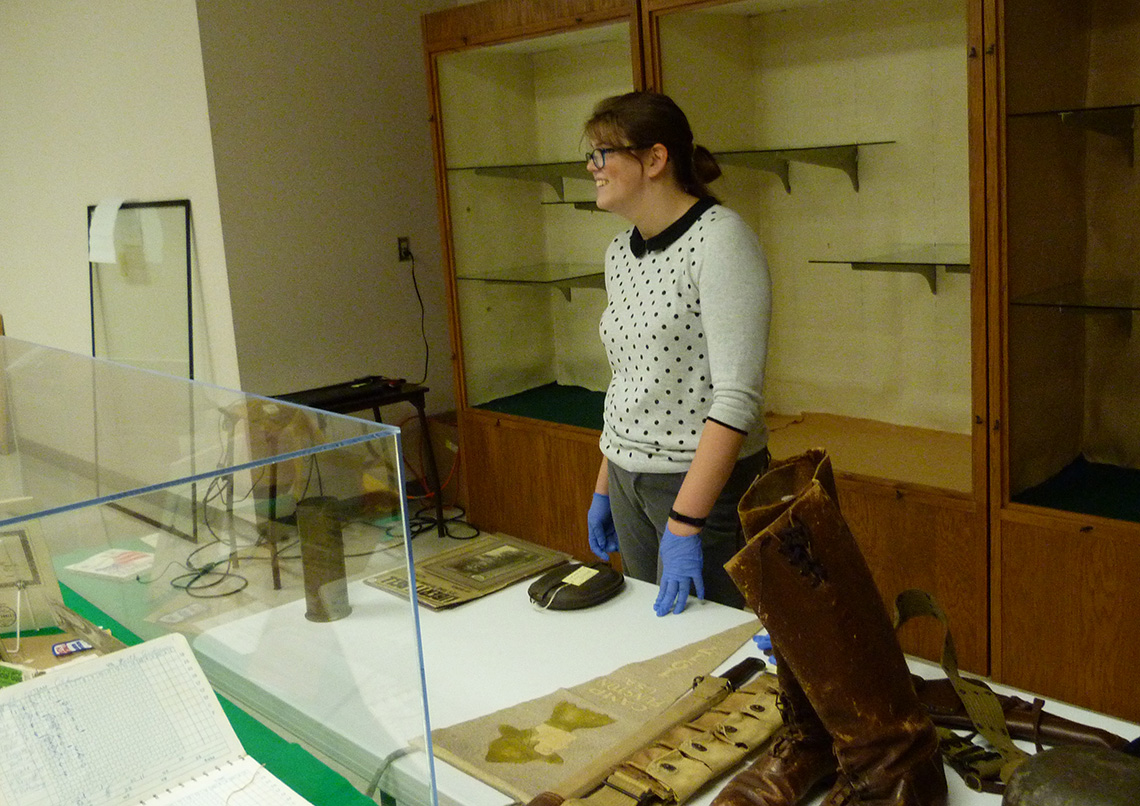 I have been the curator of collections at the Andrew County Museum since June 2017. The museum is located in Savannah, Missouri, a small town with a great heart. The museum's focus is the Rural Way of Life: The agricultural, social, religious and political history of the area. It's been a real and exciting challenge. Every day I find new objects and archival artifacts that are unlike anything I've ever seen before.
As curator of collections, I maintain our main collection of artifacts, our photographic and archival collections, and oversee the genealogy department. Since we are a small museum, every day is a new adventure in collections management, museum administration, education and programming challenges. I love every second of it, and wouldn't trade it for a bigger museum.
In my first six months with the museum, we had three temporary exhibits go up. I have a massive volunteer base -- a great group of folks -- who help with every aspect of my work, but especially exhibit install days. We have a great time telling and displaying the stories of Andrew County.
Abby Anderson, Class of 2014
Museum Coordinator, The Money Museum at the Federal Reserve Bank of Kansas City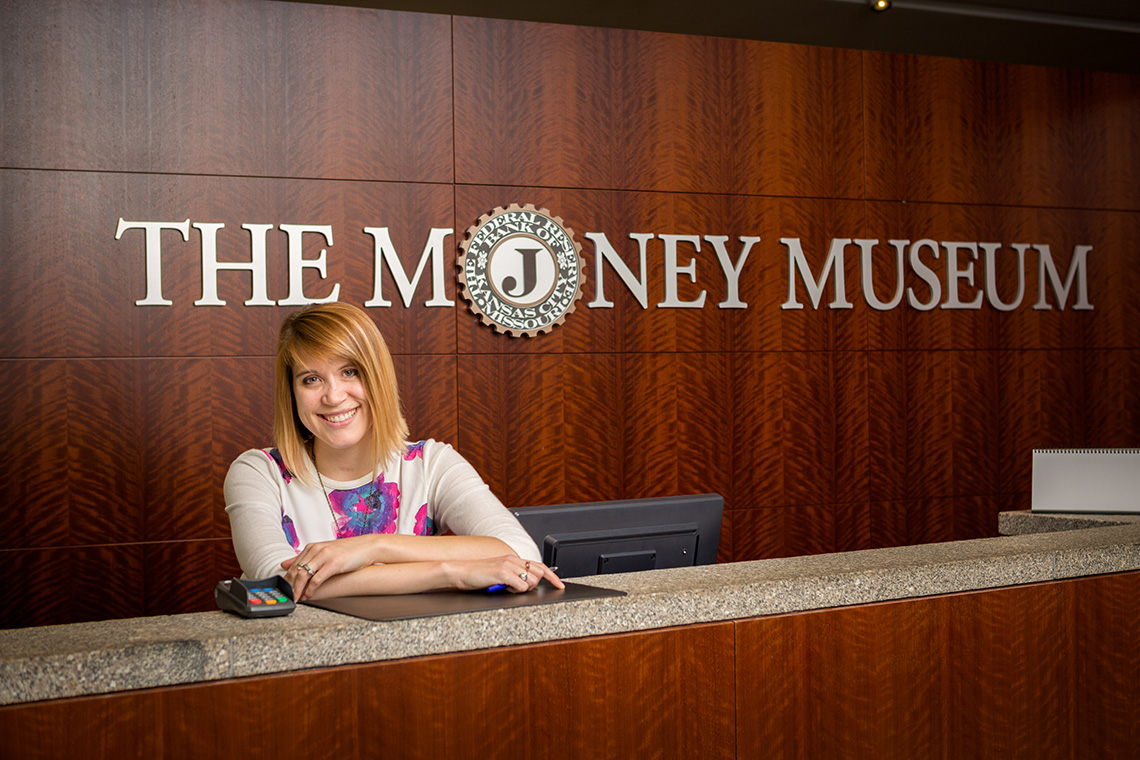 Show me the money! I've been working for The Money Museum since shortly after graduating (July 2014). I am responsible for developing new content and project managing new exhibit projects both here in KC and at our Denver location. I also help develop tour programs, presentations and area partnerships, while also helping manage our store and provide daily support for our visitors. In the coming year I will lead a complete redesign of our Denver Money Museum's gallery space.
The Money Museum at the Federal Reserve Bank of Kansas City is a deep dive into the history of coin, currency and banking, and explores how individuals can greatly improve their wellbeing through solid financial education. When I graduated, I never imagined I would work in such an institution, but what is wonderful is my work is so diverse and ever-changing. Money and finance is a topic that not only impacts every single citizen, but also tells the story of how our country was founded and where it might be going.
The Federal Reserve is the repository for banking institutions, and is a key player in ensuring the money that flows in our economy is real (not counterfeit) and in good condition. Ever wonder what happens to those bills that took a ride one too many times in the washing machine? As those bills cycle through our doors, we shred them to keep the money supply fresh and reliable. We shred millions every single day!
The most common question I get is, "What do you do with all that shred?" Shredded currency can be used to create insulation for your home, biofuel, our souvenir shred bags and compost. Farmers love the money compost, and we joke that, though money doesn't grow on trees, it can grow trees!
My study at the KU Museum Studies Program prepared me to be flexible and willing to take on any type of work or challenge. The courses that stuck with me the most were Museum Education and Exhibit Design, as I am responsible for updating and changing tour presentations and updating and creating new exhibits both here in KC and in Denver.