Rich Glor
---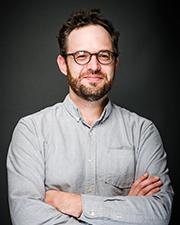 Associate Curator, Herpetology Division, Biodiversity Institute & Natural History Museum
Associate Professor, Dept. of Ecology & Evolutionary Biology
Contact Info
Dyche Hall
Lawrence, KS 66045
---
Biography
—
Richard E. Glor joined KU Herpetology as an associate curator in fall 2013. Glor's interest in herpetology extends to his earliest memories. Glor received early training in herpetology in the education department of the Buffalo Zoo. He went on to earn his bachelor's degree at Cornell University, where he was active in the Cornell Herpetological Society and completed an honors thesis under the direction of Profs. Kraig Adler and Thomas Eisner. Glor completed his Ph.D. on species diversification in Anolis lizards at Washington University's Department of Biology under the direction of Profs. Jonathan Losos and Allan Larson. For his postdoctoral research, Glor joined the Center for Population Biology at UC-Davis, where he was based in the laboratory of H. Bradley Shaffer. Glor was then an assistant/associate professor in the Department of Biology at the University of Rochester before joining KU Herpetology.
Education
—
Ph.D., Washington University, St. Louis, MO
B.S., Cornell University, Ithaca, NY
Research
—
Glor's research investigates the origins of species diversity, primarily through studies of West Indian anole lizards. His early work in this area was primarily phylogeographic, and revealed that many widespread anole species are comprised of genetically, and sometimes ecologically and phenotypically, distinct populations, some of which may be represent previously unrecognized species. These observations led to an interest in understanding the contributions of historical, geographic and ecological processes to divergence in nature, which ultimately involved combining data on geographic variation with molecular genetic data and environmental niche modeling (Wang, Algar, Glor and Werren).
Recently, Glor's studies of speciation in anoles have been focused primarily on a fascinating group of trunk anoles found on Hispaniola. By combining studies in nature with classical genetic experiments in the laboratory, he is conducting integrative studies of speciation and reproductive isolation. In addition to this work on speciation, he also is interested in understanding macroevolutionary patterns of species diversity through reconstruction of phylogenetic trees. This work has resulted in the first multilocus phylogenetic hypothesis for anoles (Alfoldi). Using phylogenetic trees, his work also has revealed the consequences of adaptive radiation for species diversification and ecological and morphological divergence (Mahler, Rabosky).