Kapila Silva
---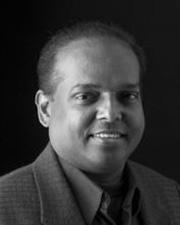 Professor, School of Architecture & Design
Associate Dean for Diversity, Equity, Inclusion & Belonging, School of Architecture & Design
Contact Info
Marvin Hall, room 311
1465 Jayhawk Blvd.
Lawrence, KS 66045
---
Biography
—
Kapila D. Silva is a Professor of Architecture at the School of Architecture and Design. He previously taught at the University of Wisconsin-Milwaukee, where he received his doctorate, and at the University of Moratuwa in Sri Lanka, where he received professional architectural education. His research focuses on the social, cultural and psychological aspects of architecture, urbanism and historic preservation.
His research has thus far been on global heritage conservation, addressing theoretical and pragmatic issues related to UNESCO's World Heritage Program, which attempts to preserve and manage historic monuments and sites with outstanding universal value around the world. The underlying interest in his research has been in the construction and stewardship of meaning in the built environment in the forms of sites, monuments and memorials of personal and communal legacies, and in balancing conservation concerns with development needs within historic urban areas. In geocultural scope, his work focuses specifically on non-Western traditions within the Asian context.
He also studies vernacular environments in the region, developing a theoretical framework to study those environments and deriving lessons for contemporary architectural situations, such as community design and post-disaster resettlement housing.
In addition to these scholarly activities, he continues to be engaged in architectural design, practicing exclusively in Sri Lanka where he is a licensed architect. Dr. Silva is the lead editor of Asian Heritage Management: Contexts, Concerns and Prospects (with Neel Kamal Chapagain; Routledge, 2013), Cultural Landscapes of South Asia: Studies in Heritage Conservation and Management (with Amita Sinha; Routledge, 2017), and The Routledge Handbook on Historic Urban Landscapes in the Asia-Pacific (Routledge, 2020) and co-author of The Tampitaviharas of Sri Lanka: Elevated Image-houses in Buddhist Architecture (Anthem Press, in press).
He received the 2006 Building Block Award (Faculty of theYear) from the University of Wisconsin-Milwaukee Chapter of the American Institute of Architecture Students, 2010 Jack and Nancy BradleyStudent Recognition Award for Teaching Excellence from the School of Architecture and Design, and 2018 K. Barbara Schowen UndergraduateResearch Mentor Award and 2020 Honor for Outstanding Progressive Educator (HOPE) Award from the University of Kansas. He is also the recipient of the 2013 New Researcher Award from the Architectural Research Centers Consortium (ARCC) and 2018 Achievement Award from the Environmental Design Research Association (EDRA).
Education
—
Post Graduate Diploma in Architectural Conservation of Monuments and Sites, University of Moratuwa, 1995, Sri Lanka
Ph.D. in Architecture, University of Wisconsin-Milwaukee, 2004, Milwaukee, WI
M.S. in Architecture, University of Moratuwa, 1993, Sri Lanka
B.S. in Built Environment, University of Moratuwa, 1990, Sri Lanka
Selected Publications
—
Asian Heritage Management: Contexts, Concerns, and Prospects; London: Routledge (Co-editor: Neel Kamal Chapagain), 2013. ISBN: 978-0-415-52054-6 (hbk) & 978-0-203-06659-1 (pbk).
"Chapter 17: The City Imageability: A Framework for Defining Urban Heritage Dimensions"; in K. D. Silva & N. K. Chapagain (eds.)(2013) Asian Heritage Management: Contexts, Concerns, and Prospects. London: Routledge, pp. 325-344.
"Resplendent Sites, Discursive Fields: An Environment – Behavior Theory for Managing Global Heritage", In S. Ahrentzen, B. Schermer, & C. Depres' (eds.)(2012) Building Bridges, Blurring Boundaries: The Milwaukee School in Environment-Behavior Studies, University of Wisconsin-Milwaukee and Villes Régions Monde: pp. 197-216.
"Symbolic Integrity of Historic Urban Landscapes: The Forgotten Dimension in Urban Conservation"; In S. Grabow (ed.)(2012) Vitruvius in the Plains: Architectural Thought at Kansas 1912-2012, University of Kansas: pp. 323-330.
"Resettlement Housing Design: Moving beyond the vernacular imagery"; South Asia Journal of Culture, Special Issue on Built Space: Social Issues in Architecture, Vol. 5 & 6, 2011/2012: 116-135.
"Mapping Meanings in the City Image: A Case Study of Kandy, Sri Lanka"; Journal of Architectural & Planning Research, 28 (3): pp. 2-24, 2011.
Awards & Honors
—
New Researcher Award
Architectural Research Centers Consortium, USA
2013
Jack and Nancy Bradley Student Recognition Award
School of Architecture, Design & Planning, University of Kansas
2010
Faculty of the Year
American Institute of Architecture Students – University of Wisconsin-Milwaukee Chapter
2006
Special Student Service Recognition Award
School of Architecture & Urban Planning – University of Wisconsin-Milwaukee
2004
Michael Ventris Memorial Award for Architecture
Architectural Association, London
1997