Elizabeth Kowalchuk
---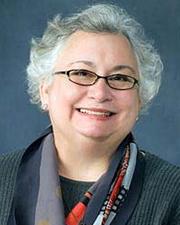 Associate Professor, Dept. of Visual Art Education
Contact Info
Chalmers Hall, room 320
Lawrence, KS 66045
---
Biography
—
My teaching broadly focuses on preparing individuals to be productive members of their community. This community includes people who shape and interpret our visual world and who teach others about art, local history and community.  My goal is for students to gain an understanding of how museums and the arts interact with other forces to influence and enrich our lives. Consequently, the thrust of my instructional endeavors involves guiding students toward professional competence, where the importance of art and community is recognized and investigated. I teach courses in art education focusing on teaching, curriculum and studio instruction. 
Originally from Miami, Liz grew up in South Florida and started her teaching career in Palm Beach County. She taught art in the public schools for six years before returning to graduate school at Ohio State University. Coming to Lawrence from a faculty position at Buffalo State College in Buffalo, NY, Liz has been a faculty member at KU for over 25 years. During this time, she has been active in campus and community affairs including service on the Lawrence Arts Commission and volunteer work for the Friends of the Lawrence Public Library.
Education
—
Ph.D. in Art Education, Ohio State University, Columbus, OH
MFA in Painting, University of Illinois, Urbana-Champaign, IL
BFA in Drawing & Painting, University of Georgia, Athens, GA
Research
—
My current research interests center on museums, material culture and the arts. Specifically, I seek to make connections between how museums and the arts function in communities, create a sense of place, and contribute to civic engagement. I'm interested in these issues both from the point of view of how teachers use their arts knowledge and local resources but also how museums contribute to community vitality, particularly in rural areas. I am currently studying the rich history of the arts and museums in Kansas, including artists and collectors who have contributed to our state. I frequently give talks and workshops about the importance of art in the community, the broader society and everyday life. I also maintain an active studio practice that currently involves using recycled textiles. I reuse silk, cotton, linen and wool clothing in a variety of ways, including quilts and wearable art.
Research interests:
Formal and informal learning
museums and material culture
small museums
collecting and collectors
public and community arts
educational outreach through the arts: art in Kansas
textile recycling and use